Materials: Marble
Dimensions: 40 cm, abacus 46 x 46 cm; 29 cm, abacus 43 x 43 cm; 25 cm, abacus 44 x 44 cm; abacus 43 cm x 43 cm
Setting: S.N.I.
Provenance: Pompeii IX, 4,5.10.18, Central Baths
Date: 62-79 AD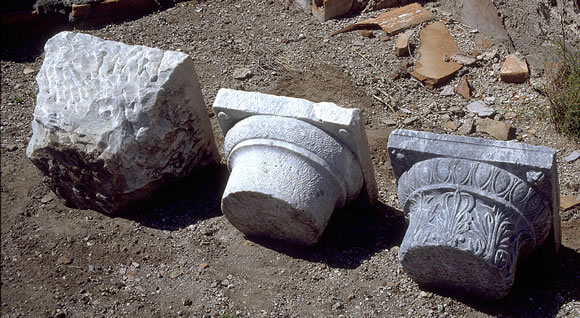 The three capitals pictured here show various phases of working; the first is unworked, the second is partially worked, the third, the only completed one, is Corinthian. The bath complex, still in construction at the moment of the 79 AD eruption, primarily served a clientele living in the northern portion of the city, and was being built at the intersection between Via Nola and Via Stabiana. It was to occupy the entire area of Insula 4, Regio IX.