2. The Vesuvian area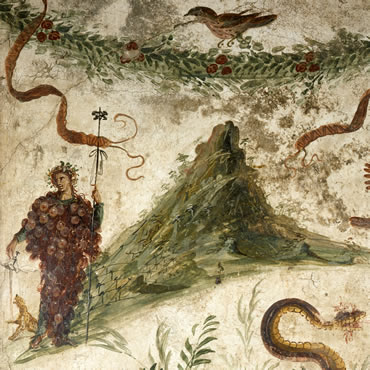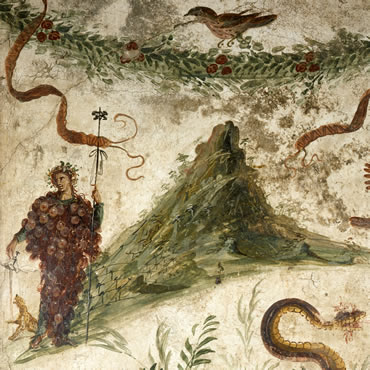 The ancient inhabitants of the Vesuvian plain lived in a different environment from today's, one which was changed significantly by the eruption in 79 AD. Before that time Vesuvius had a single peak, and was much taller, while the River Sarno was navigable and brimming with fish and flowed not far from the city walls. The coastline was much farther back; the villas of ancient Stabia overlooked the sea. The ground was covered with thick, wild vegetation that varied according to altitude. These were interspersed with cultivated fields, vineyards and orchards. Pompeii stood upon a rocky spur: those who lived in this territory took most of what they needed from the surrounding environment.
The vast plain of Campania opens onto the Tyrrhenian Sea at the Gulf of Naples. At the centre of the plain are the Phlegraean Fields, a volcanic area filled with craters and hot springs, and in the south the rising slopes of the Great Vesuvius. In the Phlegraean Fields there were numerous Roman settlements: the acropolis of Cumae, with the cave of the Sybil; the city of Baiae, in whose port at the moment of the eruption of 79 AD was anchored the Roman fleet commanded by Pliny the Elder. And there was Pozzuoli, famous also for the amazing techtonic phenomenon of the rising and falling of the segment of the earth's crust on which it is founded.
In the area of the Phlegraean Fields is also found the volcano Solfatara, in whose crater are numerous active fumaroles, and where the Cave of the Dog, an ancient thermal spring, is located.
Worthy of note is the Lake of Fusaro, that the Romans connected to the sea by means of a canal and a tunnel excavated in the tufa.
Roman settlements are also found on the islands in the Gulf: Procida, Ischia, and Capri. On Capri the Emperor Tiberius constructed a luxurious villa, linked with the suggestive Grotta Azzurra, adapted into a nymphaeum.
In the Vesuvian plain, between the volcano and the sea, were a number of important Roman settlements: Herculaneum, Pompeii, Oplontis, and Stabiae. The sediment from the volcanic eruption of 79 AD buried these settlements, radically altering the morphology of the region. A wall painting discovered at Pompeii shows that Vesuvius was higher than it is today, and that it had only one peak instead of the two that it has today; its slopes were cultivated with vineyards.
In the north, on a plain overlooking the sea, were Herculaneum and the Villa of Oplontis, which probably belonged to Poppeia, wife of Nero.
Pompeii was founded on an ancient lava flow, and developed within the coastal plain of the River Sarno, along which was probably located the port of the city. Further to the south, the coast formed a high terrace above the level of the sea, on which were located the Villa of Arianna and the Villa of San Marco.
Relief in plaster

Setting:

Rome, Museum of Roman Civilization